Affordable Email Hosting for Your Small Business
Hassle-free hosting and support for business email
According to Osterman Research, as much of 75% of a company's intellectual property is stored and sent via email.* Hosted Business Email allows you to focus on your business while we manage your email.
Business Email Features
At a price your business can afford without the overhead of running your own servers. For only $6.50/user/month, you get everything you need to run your business email, including:
Outlook, webmail & mobile access
99.9% Uptime Guarantee
Huge 25 GB mailboxes
Unlimited aliases, group lists & forwarding
Email Archiving & File Storage (added cost)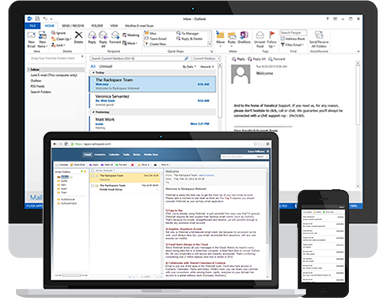 Product Features
Business runs on email and email often runs on Outlook. Using secure IMAP, PeachWiz Email is fully compatible with Outlook (and any other desktop email client); both on Windows and Macs. It also plugs seamlessly into email applications on tablets and smartphones.
Email @ your domain
Secure IMAP (for Outlook & Mobile)
Premium spam & virus protection
Unlimited aliases and group lists
Auto-setup tool
Huge 25 GB mailboxes
Domain aliases
Email forwarding
Easily recover deleted email
50 MB attachments
Additional Benefits
99.9% Uptime Guarantee
24x7x365 Support
Easy migrations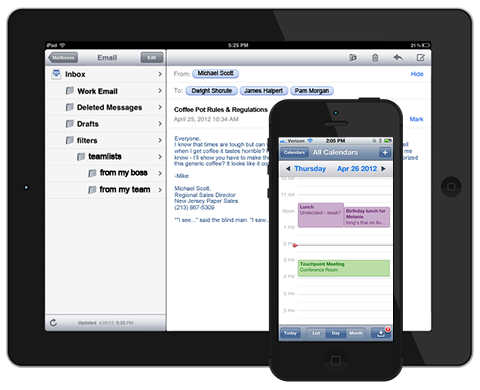 Email On the Go
Business never stops and email has to be accessible from anywhere, at anytime. With PeachWiz Email, you can enjoy IMAP access on practically any mobile phone or tablet.
With PeachWiz Email Plus, you'll also get Mobile Sync to keep your email, calendars, and contacts always synchronized with PeachWiz Webmail on your iOS, Android, or Windows device.
Webmail & Apps
PeachWiz Webmail is powerful enough to be your everyday — every email — messaging application. In addition to robust email capabilities, it also features collaboration apps and tools to help your business collaborate and communicate more effectively.
Web-based, anywhere access
Shared calendaring
Company directory (GAL)
Advanced message-filtering
Instant Messaging (Chat)
Out of office auto-responder
SMS password reset
Attach files from Dropbox
Tasks and notes
Email "undelete"
Multiple identities and signatures